All-In-One Commercial Security Solutions
Our fully-integrated commercial security solutions allows you to monitor and control your business through a single, mobile-friendly interface. With just a few clicks, you can secure your system, view live-streaming video, manage employee access, regulate energy use and much more.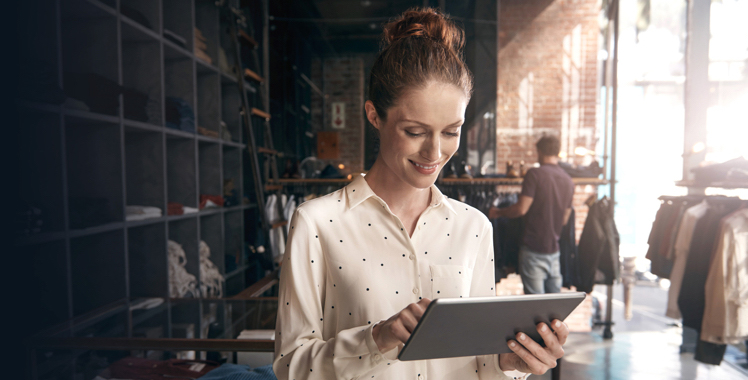 AI Powered Analytics
● Intrusion Detection
● Loitering Detection
● Line Cross Detection
● Unattended Object Detection
● Running Detection
Why use Safeguard to secure my Business?
Through alarm.com, our dashboard gives customers an at-a-glance management of the status of their security system. It also provides you with video feeds, employee access, and temperature monitoring across all rooms and locations inside of your coproration.
Our intelligent automation system reduces the change of false alarm triggers, saves you energy across the board at your business,  and also allows you to schedule and apply mass security changes in one fell swoop.
Our security platform offers patented technology that provides you with automatic software updates, two-factor authentication processes and end-to-end encyrption modules.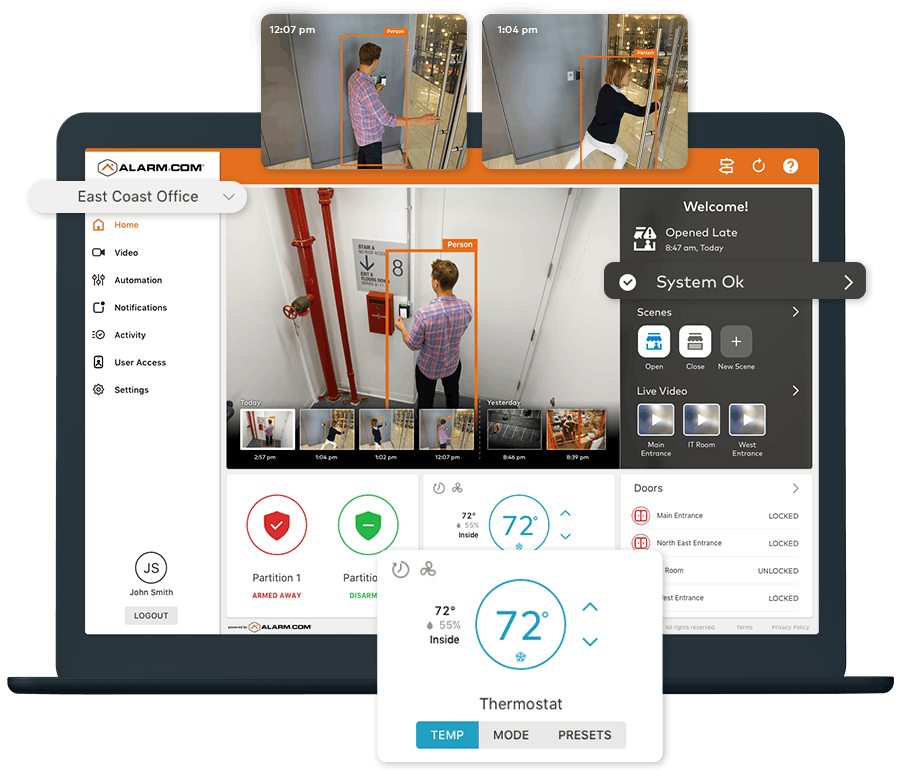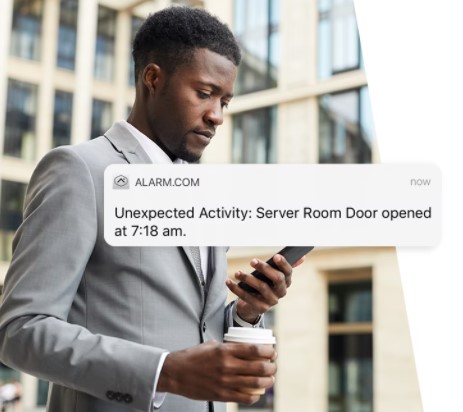 Operational Awareness
Our secure mobile app also shows consumers their businesses live-time alert notifications that deliver an improved level of security. These notifications help managers to stay ahead of the game with their operation management and make informed decisions on their business.
This feature takes the stress out of operating a business especially when you're not there. Settings are one hundred percent customizable, and can show you things like
When the establishment opened
If someone left a door unlocked
If you lose power
If your network is down
If your oven is out of range
If someone closed up shop early
and so much more.
Activity reports are also automatically generated based off of peak business traffic hours, alarms and malfunctions or system issues, and activity on the businesses property. These operational reports can be scheduled to automatically send out to a manager, or you may access them at anytime via your app or mobile website. 
Filtered Activity
Being able to provide your business with filtered activity is one of the top features on our mobile security app.
This allows business owners to perform divisonal audits at a more efficent and quicker pace. Pull video clips that are associated with the situation you are investigating as well as personalized user code logs.
Along with filtered activity, we can also notify users of suspicious activity. Our systematic machine learning algorithm can monitor your daily business operations and decipher if an unusual instance arises. You'll be the very first one to know if something strange or peculiar happens.
Smarter Access Control
Efficiently manage permissions for all the access points to your business. Create and delete users, remotely lock or unlock doors and keep track of important activity in real time — all through a user-friendly website and app.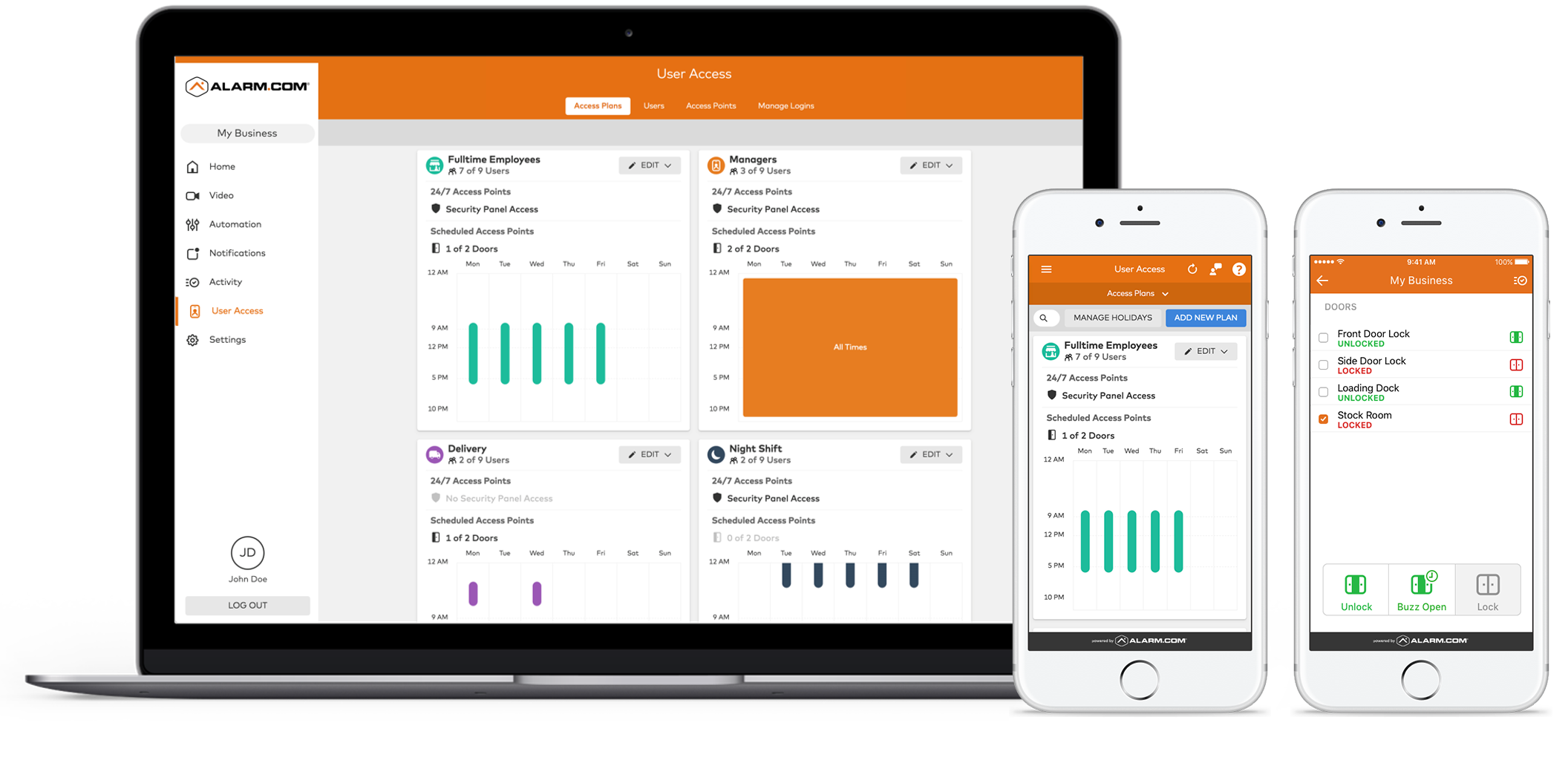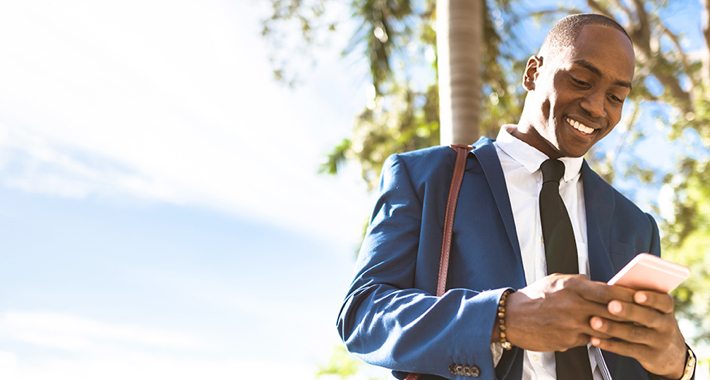 Keeping You Aware
Did someone go into your office? How about the inventory room? Or the server room? Get notifications from your smart security system that keep you informed in real-time. Distinguish between real and false alarms and confirm your business opened on time.
Unique User Codes
Manage employee access to your business across multiple locations with unique User Codes. Remotely add or delete codes with ease without calling the alarm company or using the keypad.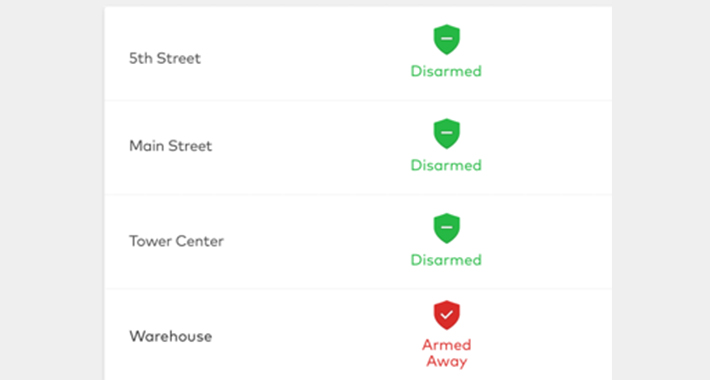 Multi-System Access
Control all your properties (and systems at those properties) with a single log-in. Our Enterprise solution allows you to manage multiple locations from one centralized dashboard.